Carnival, Memes and More!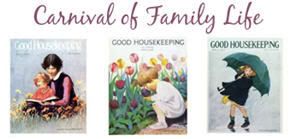 The Carnival of Family Life's
Thanksgiving edition is up at
Thrifty Mommy's!
There are lots of great stories and articles for decorating and Great recipes too! I submitted my story about
the Missing Turkey
! Which she thought reminded her of the movie
A Christmas Story
! I haven't seen it before, so I'll have to watch it!
I found this over at
Catch's
! It looked like fun.
1. Egg Nog or Hot Chocolate? Hot Chocolate
2. Does Santa wrap presents or just set them under the tree?He wraps them!s ! 3. Colored lights on tree/house or white? colored
4. Do you hang mistletoe? No
5. When do you put up your decorations.. after Thanksgiving!
6. What is your favorite holiday dish (excluding dessert)? My grandmother's homemade Stuffing! Nobody can make it like hers!
7. Favorite Holiday memory as a child:The one year my Dad bought me a PogoStick. I couldn't stop bouncing on it!
8. When and how did you learn the truth about Santa? Is there something I don't know?
9. Do you open a gift on Christmas Eve? Yes, at my SILs. 10.What kind of decorations are on your Christmas Tree?Bulbs and every year I buy a Hallmark ornament! The kids hang candy canes and string popcorn.
11. Snow! Love it or Dread itI love how everything looks so peaceful in the morning, and how the scenery is so clean and white. I really wouldn't want to live in it though!
12. Can you ice skate? Yes, It's been a few years, but I love it!
13. Do you remember your favorite gift? My pogo stick! 14. What's the most important thing about the Holidays for you?Being with my family, being thankful for all God has blessed me with.
15. What is your favorite Holiday Dessert?My Grandmother's FUDGE!
16 What is your favorite holiday tradition? Taking the kids to see Santa, and Christmas Morning Service at Church!
17. What tops your tree?An angel
18. Which do you prefer giving or Receiving?I like Giving! To see the kids faces light up when they open their presents!Brings so much JOY to see it!
19. What is your favorite Christmas Song?The Christmas Song.....Chestnuts roasing on an open fire!Jack Frost nipping at your nose!
20. Candy Canes! Yuck or Yummy?Yummy!!! I like to stir them in my Hot Chocolate!
Let me know if you do this on your blog so I can come visit!
I haven't done quizzes in a while, and I've seen this one everywhere!
It was pretty right on my spirit is low because of the stress I feel in taking care of my son! It seems like everyone is so busy in our family, that we aren't as close as we used to be!